The White House Correspondents' Association announces the winners of its 2023 journalism awards for work done in 2022.
The winners for presidential news coverage include journalists from CNN, the New York Times, Politico, Reuters, and the Washington Post.
"We can all take inspiration from this year's award winners," said Tamara Keith, president of the WHCA. "Their work rightfully moved the judges and represents the best of the best."
The awards will be presented at the WHCA Dinner on Saturday, April 29.
The Collier Prize for State Government Accountability, administered independently and honoring statehouse reporting, also will be presented at the WHCA dinner.
 x x x
The WHCA award winners:
THE ALDO BECKMAN AWARD FOR OVERALL EXCELLENCE IN WHITE HOUSE COVERAGE
Matt Viser, Washington Post
From the Judges:
Matt Viser stood out among his competitors for work that went beyond the humdrum of covering the managed events of the presidency and White House. Viser captured the spirit of Joe Biden, particularly with his stories on how the president's brother and his Catholic faith influenced his strategic vision of the office. His sourcing on the James Biden story was unusual, plumbing emails from Hunter Biden's laptop to illuminate the relationship of the two brothers, and winning a rare interview with James Biden. Viser's articles on Joe Biden's presidency also were reported with historic context, written with an easy accessible style.
   x x x
THE AWARD FOR EXCELLENCE IN PRESIDENTIAL NEWS COVERAGE UNDER DEADLINE PRESSURE – PRINT
Jeff Mason, Reuters
From the Judges:
Jeff Mason of Reuters broke news on a key issue of the Biden administration's climate initiatives with an exclusive report about a White House solar energy initiative that would waive tariffs on solar panels from Southeast Asia, sparking a rally on the stock market among solar companies. Following up on a tip he had received about a brewing solar initiative, Mason broke the news late on a Sunday night, hours before the White House announced it on Monday morning, with reporting from sources that clearly explained what the administration was doing and the impact it would have. The speed of his reporting had an impact on the market and led to multiple other news outlets citing the piece before the official announcement the following day.
 x x x
AWARD FOR EXCELLENCE IN PRESIDENTIAL COVERAGE UNDER DEADLINE PRESSURE – BROADCAST
Phil Mattingly, CNN
From the Judges:
Phil Mattingly of CNN was ahead of the competition and the official White House announcement in breaking news of the details of Ukrainian President Volodymyr Zelensky's planned trip to the White House in December 2022. He then led CNN's coverage of every moment of Zelensky's visit, from his South Lawn arrival to his Oval Office sit down with Biden, to their joint East Room press conference, where Mattingly asked both leaders questions that elicited deeply personal and newsworthy responses at a critical inflection point for the Russian-Ukrainian conflict. His 16 live shots in a 24-hour period combined scoops, context and depth.
See the winning coverage here.
         x x x
THE AWARD FOR EXCELLENCE IN PRESIDENTIAL NEWS COVERAGE BY VISUAL JOURNALISTS
Doug Mills, The New York Times
From the Judges:
Doug Mills expertly captured an unscripted moment with President Joe Biden as he emerged from the shadows to celebrate the passage of the Inflation Reduction Act of 2022 at an event on the South Lawn. The image is striking for its composition, symmetry, and use of light. The President's expression and posture intensify the atmosphere with a sense of gravity, as do the gazing Marine Honor Guards who frame him.
The winning photo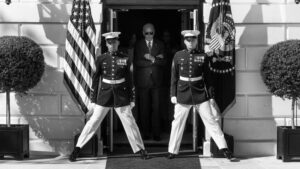 x x x
THE KATHARINE GRAHAM AWARD FOR COURAGE AND ACCOUNTABILITY
 Josh Gerstein and Alex Ward, Politico
 From the Judges:
POLITICO's efforts to report, verify and publish the draft Supreme Court opinion reversing abortion rights – and the organization's follow-up work exploring the consequences of the decision – were globally historic and groundbreaking. This was extraordinary journalism by Josh Gerstein and Alex Ward, reflecting the kind of fearless work that Katharine Graham famously promoted. It flipped the long-standing belief in Washington, D.C., that, "nothing leaks from the Supremes." We enthusiastically applaud not just the unprecedented scoop but also POLITICO's behind-the-scenes work to authenticate the draft, protect sources and engage with the court ahead of publication. Here was journalism about a ruling that has had a profound and immediate impact on tens of millions of lives.
Read the winning coverage here
Awards2023 Graham Story1 Awards2023 Graham Story2 Awards2023 Graham Story3
   x x x
Our Judges
We thank our judges, coordinated by Ellen Shearer. William F. Thomas Professor Emerita in Journalism, Medill School of Journalism, Northwestern University
Aldo Beckman Award Judges
Lucy Dalglish, Dean and Professor, Philip Merrill College of Journalism, University of Maryland
James Asher. Investigative journalist; former McClatchy Washington Bureau Chief.
Yanick Rice Lamb. Professor of journalism, Department of Media, Journalism and Film, Cathy Hughes School of Communications, Howard University.
Deadline Award Judges
Barbara Cochran. President, Fallen Journalists Memorial Foundation. Professor Emerita, Missouri School of Journalism.
Ellen Shearer. William F. Thomas Professor Emerita in Journalism, Medill School of Journalism, Northwestern University
Julia A. Wilson. Dean, Scripps Howard School of Journalism and Communications, Hampton University.
Visual Journalism Award Judges
Steve Crane. Washington bureau director, Cronkite News/Arizona PBS, Arizona State University.
Terence Hunt. Retired AP White House correspondent and deputy bureau chief.
Matthew Orr. Assistant Professor & Medill on the Hill Program Leader Medill School of Journalism, Media, Integrated Marketing Communications, Northwestern University
Katharine Graham Award Judges
Ted Bridis. Rob Hiaasen Lecturer in Investigative Reporting, Department of Journalism, University of Florida
Amy Eisman. Director of the Journalism Division, School of Communication at American University.
Sandy K. Johnson, President emeritus, National Press Foundation
Jackie Jones. Dean and Professor, School of Global Journalism & Communication, Morgan State University.
   x x x
For more information on WHCA awards, contact Executive Director Steve Thomma at director@whca.press
---
For more information, contact WHCA Executive Director Steven Thomma at director@whca.press