The White House Correspondents' Association announces the winners of its 2022 journalism awards for work done in 2021.
The winners for presidential news coverage include journalists from ABC News, AFP, the Associated Press and Axios.
Their award-winning work covered efforts to overturn the 2020 presidential election, violence at the U.S. Capitol, Covid, and a meeting between President Joe Biden and Vladmir Putin.
Also, the International Consortium of Investigative Journalists, The Washington Post and an international consortium of other media partners is honored for work exposing financial secrets of more than 330 current and former heads of state as well as the U.S. role in the offshore system.
"Our panel of independent judges had a formidable task, reviewing dozens of worthy entries," said WHCA president Steven Portnoy. "We are grateful for the panel's efforts in identifying these winners, and we are excited to honor the recipients at our annual dinner."
The awards will be presented at the WHCA Dinner on Saturday, April 30.
The winners:
THE ALDO BECKMAN AWARD FOR OVERALL EXCELLENCE IN WHITE HOUSE COVERAGE
Jonathan Swan, Axios
From the Judges:
The judges select Jonathan Swan for the Aldo Beckman award from a competitive list of entries that demonstrated the impact of White House policies and decisions on people's lives. Swan's riveting "Off The Rails" series describing the post-election turmoil in the White House illuminated, with speed and detail, the last-ditch efforts to overturn the election. The series also revealed President Trump's ongoing attempts to put a loyalty stamp on the government's national security apparatus. The stories, and their accompanying podcast, have been source material for the Jan. 6 investigating committee and have remained relevant amid continued revelations about the events surrounding the assault on the Capitol.
THE AWARD FOR EXCELLENCE IN PRESIDENTIAL NEWS COVERAGE UNDER DEADLINE PRESSURE – PRINT
Zeke Miller and Mike Balsamo, Associated Press, CDC mask order
From the Judges:
It started with a tip that led Mike Balsamo and Zeke Miller to the news most of America had been waiting for: The CDC was finally ready to relax the COVID-19 mask requirements. Balsamo and Miller drew on their sources to get the scoop, then they kept reporting through the day to deliver a tight, informative news stories on deadline that spelled out details of the new policy while capturing the mood of the moment, with voices from Capitol Hill to Sioux Falls. They also managed to look ahead to the challenges that lay ahead for enforcement of the new policy.
See the winning story here
AWARD FOR EXCELLENCE IN PRESIDENTIAL COVERAGE UNDER DEADLINE PRESSURE – BROADCAST
Jonathan Karl, ABC News, Jan. 6 coverage
From the Judges:
While the insurrection was still unfolding, Jonathan Karl was delivering a comprehensive, even-keeled and thorough piece of television that was visually powerful and compelling. Karl's richly sourced reporting provided his viewers with a sense of what he so accurately described as the "chaos and lawlessness striking at the heart of American democracy." Karl was ahead of the curve, delivering in real time a detailed narrative that doesn't hit one false note, even with a year's perspective. His work on Jan. 6 defines "reporting under deadline pressure."
See the winning story here
THE AWARD FOR EXCELLENCE IN PRESIDENTIAL NEWS COVERAGE BY VISUAL JOURNALISTS
Brendan Smialowski, Agence France-Presse
From the Judges:
A quick glance at this photo might give the impression of a dull overall shot of men in dark suits. However, the Biden-Putin meeting in Geneva was a major story, and this image captured the underlying drama. Look closely. The body language and each game face tell the story. These summit photo ops are fast. In seconds, the handlers would be yelling "lights" and pushing the photographers out the door. Brendan Smialowski of Agence France-Presse had to read the room quickly and go for the one picture that told the story.  Smialowski did just that and captured a prize-winning photograph.
The winning photo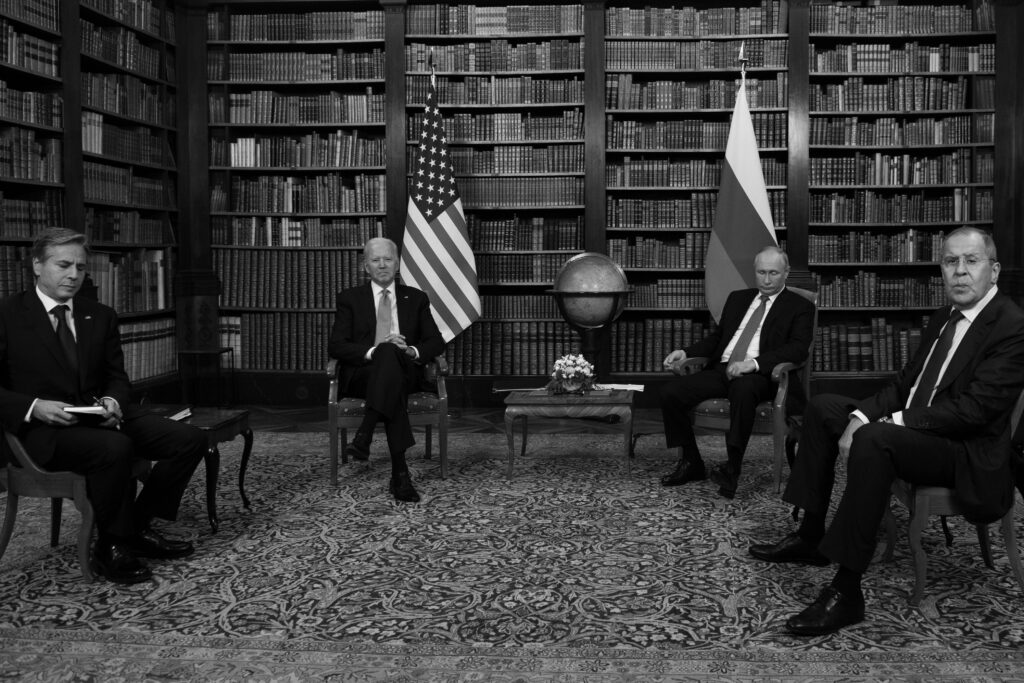 THE KATHARINE GRAHAM AWARD FOR COURAGE AND ACCOUNTABILITY
International Consortium of Investigative Journalists, The Washington Post and media partners around the world
From the Judges:
The committee found the breadth and depth of the reporting and production of the Pandora Papers undertaken by the International Consortium of Investigative Journalists, The Washington Post and media partners around the world to be a major feat by itself, managing 600 journalists from 151 countries, working in a dozen languages with interpreters to analyze, verify and report on information from 11.9 million documents and produce a series of stories across a wide variety of media platforms.
And then there is the impact of the reporting, which exposed financial secrets of more than 330 current and former heads of state, and the U.S. role in the offshore system, led to electoral and legislative change around the globe, but also physical threats against and jailing of some journalists. The project underscored the strength of collaborative reporting and overcoming technological obstacles to produce powerful journalism.
Read the winning stories here:
1-Offshore havens and hidden riches of world leaders and billionaires exposed in unprecedented leak
2-Foreign money secretly floods U.S. tax havens. Some of it is tainted.
3-Global hunt for looted treasures leads to offshore trusts
4-When Latin America's elite wanted to hide their wealth, they turned to this Panama firm
5-As a poisoned town sought justice, top chemical giant executive moved millions to tax havens
6-While his country struggles, Jordan's King Abdullah secretly splurges
7-How America's biggest law firm drives global wealth into tax havens
https://www.icij.org/investigations/pandora-papers/baker-mckenzie-global-law-firm-offshore-tax-dodging/
8- Czech Prime Minister secretly bought lavish French Riviera estate using offshore companies
9 –As Catholic order fought sex abuse claims, secret trusts devoted to it poured millions into American rental properties
10 – How U.S. sanctions take a hidden toll on Russian oligarchs
11- Secret money, swanky real estate and a a Monte Carlo mystery,
And some reaction stories:
"Pandora Papers investigation prompts new scrutiny of law firms' role in offshore abuses"
"Lawmakers and regulators around the world take action in the wake of Pandora Papers"
"Pandora Papers caps off 2021 with consequences felt around the globe
Leading politicians, governments, and elites from all over the world have been roiled by the largest-ever ICIJ investigation, which changed the global conversation on tax havens and financial crime."
Judges
We thank our judges, coordinated by Ellen Shearer. Medill Washington Bureau Chief, William F. Thomas Professor of Journalism and Co-Director of the Medill National Security Journalism Initiative, Northwestern University.
Aldo Beckman Award Judges
Chair, Jim Kuhnhenn. Retired Associated Press White House and politics reporter; former Washington Press Club Foundation president. Jesse J. Holland. Weekend host, C-SPAN Washington Journal, assistant professor, George Washington University School of Media & Public Affairs, former Washington Press Club Foundation President. Amy Eisman. Director of the Journalism Division, School of Communication at American University.
Deadline Award Judges
Chair, Steve Crane. Cronkite News/Arizona PBS, Arizona State University, Washington, D.C. Peter Maer. Retired CBS News White House Correspondent. Five time recipient of the Merriman Smith Award for Presidential Coverage Under Deadline Pressure. Frank Sesno. Frank Sesno. Professor and Director of Strategic Initiatives, George Washington University School of Media and Public Affairs.
Visual Journalism Award Judges
Chair, Yanick Rice Lamb. Professor of journalism, Department of Media, Journalism and Film, Cathy Hughes School of Communications, Howard University and Director of the Howard University News Service. Lynne Adrine is Director of the Washington Graduate Capstone program for the Newhouse School at Syracuse University. Adrine also serves on the board of directors for Journal-isms, a news site dedicated to diversity issues in news media. Dennis Brack.  former President of the White House News Photographers Association
Katharine Graham Award Judges
Marty Kaiser. Kaiser was editor of Milwaukee Journal Sentinel for 18 years after previously serving in top editing positions at the Baltimore Sun and Chicago Sun-Times. He is now director of the Capital News Service at the University of Maryland's Merrill College of Journalism. Jackie Jones. Assistant Dean for Programs, Morgan State University, School of Global Journalism & Communication Terence Hunt. Retired AP White House correspondent and deputy bureau chief.
For more information about the WHCA Awards,  contact Executive Director Steve Thomma at director@whca.press