The White House Correspondents' Association at its annual dinner April 29 honored two legendary and deeply missed journalists – the late Gwen Ifill of the PBS NewsHour and Washington Week and the late Bill Plante of CBS News.
The WHCA honored their memories with the Dunnigan-Payne Prize, name for two trailblazing women journalists.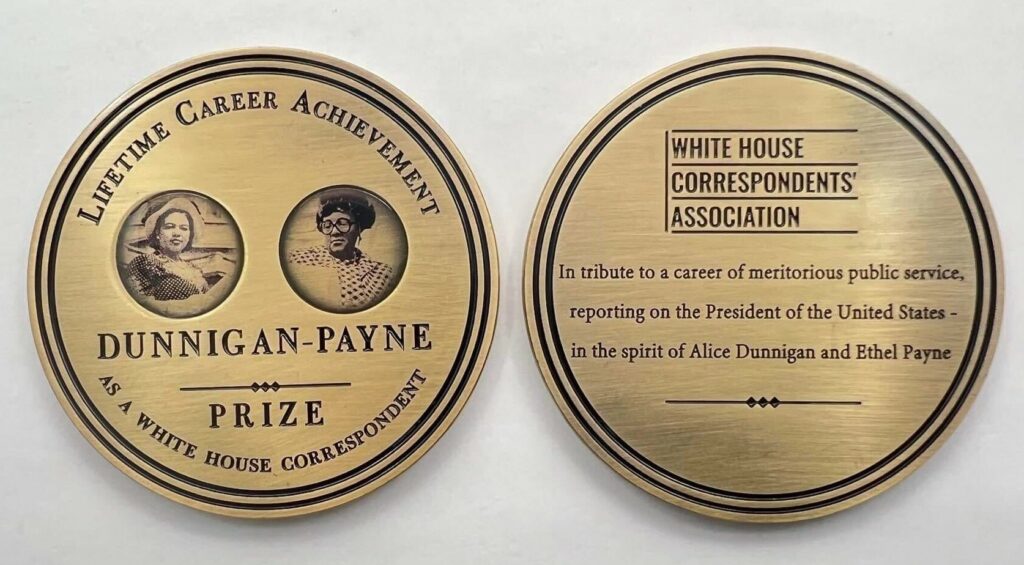 Kelly O'Donnell of NBC News, the WHCA's vice president, presented medallions to family members Bert Ifill and Chris Plante, and recalled her own relationships with the late journalists.
"Gwen and I were colleagues at NBC back in the 90s. I didn't know her well then, as I was visiting DC covering my first presidential race. I casually shared that I didn't really get why a campaign made certain behind the scenes moves. As Gwen headed to her car, she stopped, turned around, and offered up her experienced and smart take on what was really going on," O'Donnell said.
"That helped me in the moment but she gave me something bigger. She showed me that real pros… stop, turn around and help out. Her example made me want to be that kind of colleague. Thank you Gwen.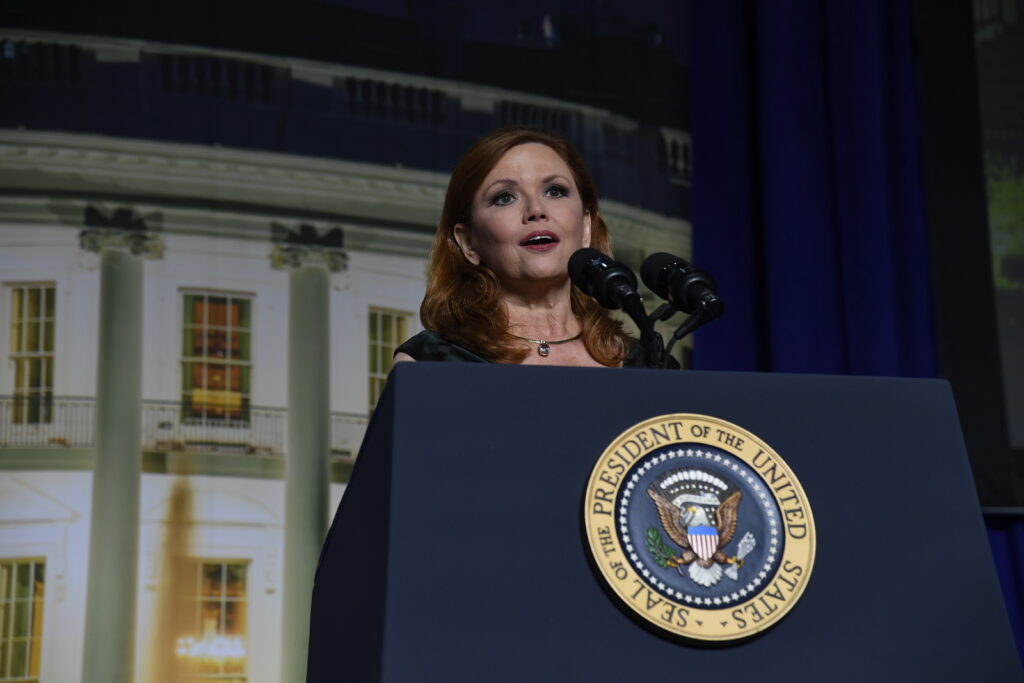 "And Bill, more than 50 years at CBS, was a master of the shouted question at the White House. Many of us also knew Bill's gift for making presidential trips real life memories by finding time to experience the flavor of places we visited. Around the world, he would select a perfect restaurant, the right bottle of wine and bring together a group of us to hear his stories and share our own. A rooftop in Vietnam hearing about his war coverage was exceptional. He encouraged us to savor the journey of this job. Thank you Bill."
The medallions were presented to Bill's son Chris Plante and Gwen's brother Bert Ifill.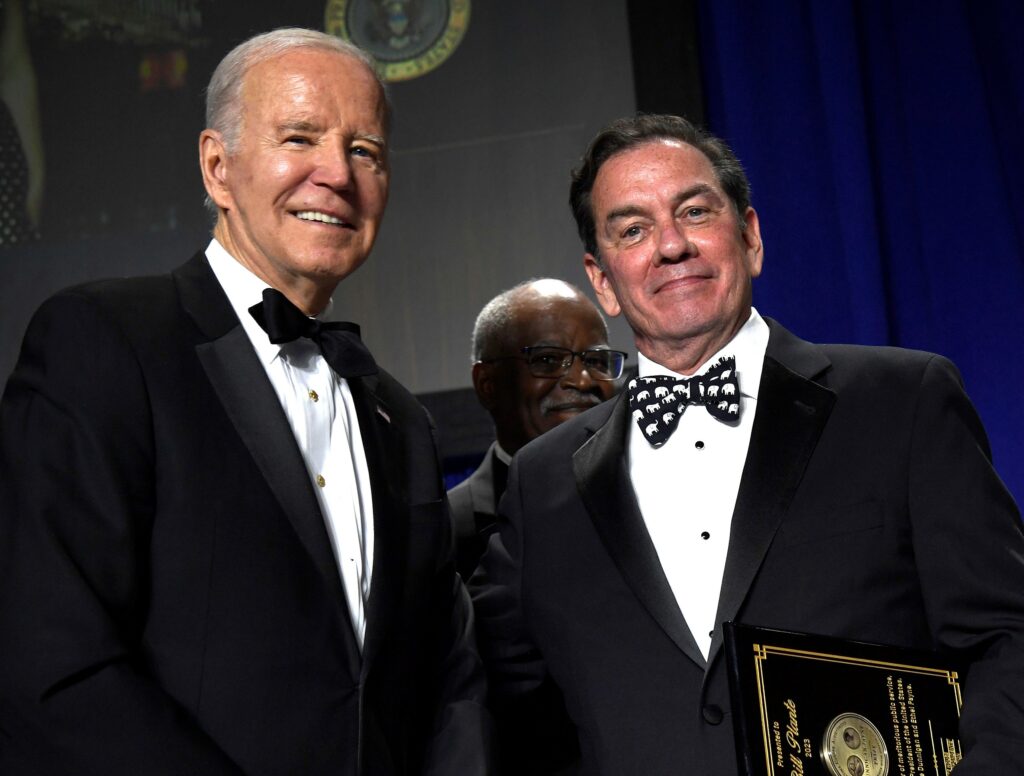 About the award
The Dunnigan-Payne Prize was created in 2022 to raise up the achievements of Alice Dunnigan and Ethel Payne, the first two African American women to serve as members of the White House press corps. In the prize's inaugural year, Ms. Dunnigan and Ms. Payne were the initial recipients of this award that will carry their names to honor the career achievements of White House correspondents.
William "Bill" Plante was one of the longest serving White House broadcast journalists in history, working on the beat for 35 years covering the presidencies of Ronald Reagan, Bill Clinton, George W. Bush and Barack Obama. He served as WHCA president from 1986-87. He was beloved in the press corps for his kindness, but didn't pull punches with the politicians he covered. He used his recognizable baritone voice to lob questions, even when the White House wished he wouldn't.
"Our asking questions should not be dependent on what the White House thinks the mood or the tone of an event should be," Plante said in 2007. "And the fact that they say 'no questions' or don't allow time for questions really has nothing to do with it. They don't have to answer, but I think we need to preserve and aggressively push our right to ask."
About the honorees
In addition to his long career covering the White House, Plante also covered the State Department and had served four tours covering the war in Vietnam, including the fall of Saigon and Cambodia, the civil rights movement and all the presidential elections from 1968 to 2016. His remarkable tenure at CBS News spanned 52 years.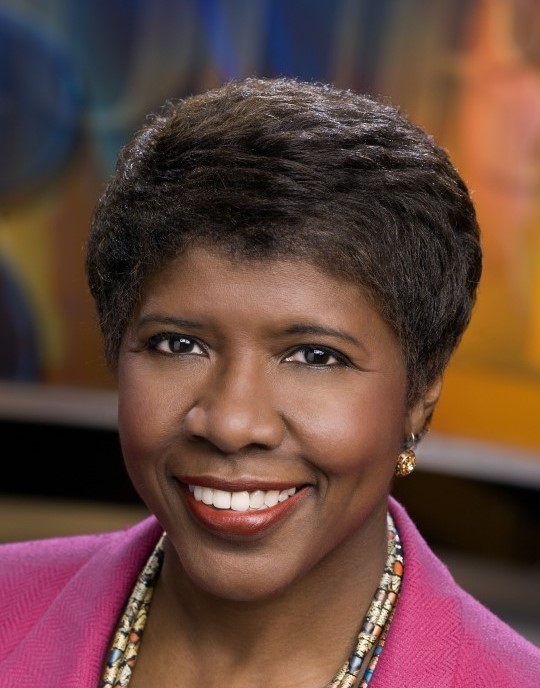 Gwen Ifill, PBS NewsHour and Washington Week
Gwen Ifill was a groundbreaking journalist who covered eight presidential campaigns, moderated two vice presidential debates in 2004 and 2008 and in 2016, while battling cancer, moderated a Democratic primary debate. She was a co-anchor and managing editor of the PBS NewsHour and moderator and managing editor of Washington Week on PBS. She joined the network in 1999 to helm Washington Week, becoming the first African American woman to host a nationally televised public affairs program. At that time, she also joined the NewsHour with Jim Lehrer as a senior correspondent, again making history in 2013 alongside Woodruff as the first female anchor team for a national evening newscast.
Ifill covered the White House for the New York Times from 1991-1994 and moved to broadcasting at NBC News covering politics and Capitol Hill from 1994-1999. She began her reporting career with the Boston Herald, followed by assignments with the Baltimore Evening Sun and the Washington Post.
More News